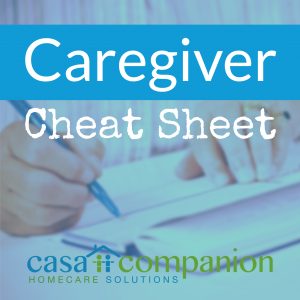 We are connected to one another in ways we rarely think about when life is business-as-usual. Whether you're a caregiver, a home care aide or a senior, access to a phone, television and/or the internet is crucial to quality of life. In a disaster, reliable communication is a lifeline to information, rescue, and recovery. Recent hurricanes, wildfires, and floods in the news remind us that we can't take our connection to the rest of the world for granted. At the same time, the temptation to save money can be difficult to resist. While no technology is immune to severe weather, wildfire, and power outage, some tech is less disaster-proof than others.
If you're looking for ways to save money, choosing to bundle your phone, television, and internet services together with one provider is a great idea. Earlier this summer, 'Mom', a member of the Casa family, was frustrated by how much the bill for her two AT&T landline phones had grown. She was shocked at how much extra Comcast wanted to add HD service and premium channels to her basic service. Her AT&T internet connection was pretty reliable, but AT&T had just installed fiber optics in the front yard. The grass had finally grown back, and now they insisted they had to rewire inside the house because the fiber was on the opposite side of the building from the copper. Mom rebelled, and decided to bundle her services with Comcast. The week before Irma struck near her part of Florida, Comcast installed a wireless gateway modem in the office of her home, while at the same time moving her existing landline numbers from AT&T to Comcast. Mom now had voice-over-IP phone service, wireless internet, and HD television. She was happy for a couple of days, and then the hurricane struck. When the power went out, so did all her services.
Mom expected to lose television and internet when the power went out, because electricity, but she didn't expect to lose her phone service, too. The landlines she grew up with never went out along with the power. But service that is bundled physically through a gateway device, over cable, is called Voice-Over-IP service, and it is just as vulnerable to a power outage as every other appliance in your home. This kind of phone service is delivered through the gateway device, which turns your voice into data so it can travel over the same path as your internet traffic. Mom never realized that she wasn't getting true landline service, because she had a dial tone. If she didn't have a cellphone for emergencies just like this, her family would have had no way of contacting her during the storm.
Mom and her house survived the storm, but her relationship with Comcast did not. She realized that paying for standard landline service is a smart choice for a senior living in Hurricane Alley. Here's her short, hard-earned list of the pros and cons of bundling:
Pros:
A bundle of television, internet and phone service usually offers better pricing on each of the three services than is available for any of the services separately.
Comcast and the others offer broadband speeds of internet, and 'VoIP' phone service, everywhere they offer television service. Cable networks are as fast or faster than non-fiber-optics telephone company networks.
Set-up is often easy enough for DIY. The gateway device, which splits the services off into end-user devices, is usually plug-and-play right into the cable connection wherever you watch TV.
Perils:
One gateway device means one point of failure. Whether a power outage, a software bug, or a spilled cup of coffee takes out your device, the device is vulnerable.
Pricing:

All three services are required to take advantage of the bundle, and extras can be expensive.
The bundle discount is usually offered for one year, after which prices either go up or you have to switch to another provider for a similar price point
Set-up fees and equipment rentals can eat up the discounts

Set-up can be tricky if you have no tech skills at all. None of your services will work if the cords aren't plugged into the right spots.
Disaster prep means you will need a cell phone, a backup battery, or even a generator – all of which can eat into your savings.