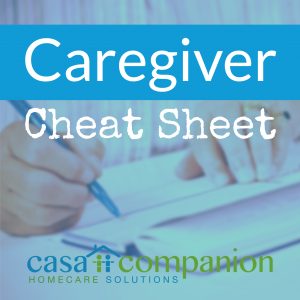 When a friend's retired mother recently mentioned that she was trying to find affordable gap insurance, her daughter offered to help with her Google ninja skills. Google gave her daughter more than 7 million results – for a kind of auto coverage called GAP insurance. Confusion briefly reigned, because Mom is in the market for Medigap insurance for herself, not additional protection for a car.  After a round of 'Who's on first'-style hilarity, Mom and her daughter figured out what avenue of research to pursue. A senior you know may be in the market for 'gap insurance', and this month, we talk all things 'gap' for the benefit of caregivers, home care aides and loved ones.
First, what the heck is GAP insurance? Guaranteed Auto Protection (GAP) insurance covers the difference between what your car is actually worth, and the remaining balance on your auto loan or lease agreement. GAP insurance is only useful in two situations: you have a loan, or you have a lease, on a car whose actual cash value (ACV) is less than the balance on either contract. If that car is stolen, or totaled, your auto insurance won't pay off your loan, only the car's ACV. And if there's some daylight between those two numbers, you are on the hook. GAP insurance was invented by the auto financing industry to solve this problem. You can purchase GAP insurance along with your car, or when you sign the lease, as a one-time charge, or you can add a small amount to your monthly auto insurance premium.
But the real question was about Medigap insurance. When Medicare becomes part of your everyday vocabulary, so does Medigap. Medicare covers every American over the age of 65, at a certain level of coverage. But some seniors need additional protection, and Medigap insurance was conceived fill this need. Medigap plans offer additional protection, for additional cost, to the basic level that Medicare provides. So what is Medigap insurance, who needs it, and how does it work?
Medigap is insurance you buy from a private insurance company that covers the costs that 'Original' Medicare doesn't cover. This can include deductibles, co-payments, and health care while traveling. Typically, Medigap plans don't cover vision, dental, long-term care, private-duty nursing, hearing aids or eyeglasses.
People who have Medicare Part A and Medicare part B can also enroll in a Medigap plan. Anyone who has a Medicare Advantage plan cannot have Medigap simultaneously. You can switch from a Medicare Advantage plan to a Medigap plan, but you have to manage the timing carefully.
Medicare Advantage is private insurance that covers everything 'Original Medicare' covers, plus additional services like vision, dental and more.
Different plans are available in different areas, so use this Medicare Personal Plan Finder tool from medicare.gov.
There are 14 Medigap plans currently active, labeled A through N. (Plans E, H, I and J are not available to new subscribers, but are still an active part of the alphabet.)
The open enrollment for a Medigap plan is the six months between the first day of the month of your 65th birthday – so not October 17th, when you turn 65, but October 1st of the month you'll turn 65 – so long as you've enrolled in Medicare Part B. If you've haven't done that yet, then you've got a six-month window starting the day you do sign up for Medicare Part B.
If you enroll in a Medigap plan in the appropriate window, you pay the premium of a healthy person your age. If you wait, and enroll at another time, you may not be approved for coverage, or you will potentially pay a higher premium based on your health. This may seem capricious, and complicated, but the upside is that your Medigap provider must renew your policy once you've enrolled, if you stay current on your premiums.
If you already have a Medigap plan that covers prescriptions, you keep that coverage. Since the launch of Medicare Part D in 2006, which covers prescriptions, new Medigap plans, and new enrollments, no longer cover prescriptions.
The specifics of each 'letter' plan are determined by the government (except in Massachusetts, Minnesota and Wisconsin) but the premiums will vary by state and by insurer.
If you're in the market for a Medigap plan, use this handy chart from eHealthInsurance.com to compare the details of the ten plans currently available to new enrollees. According to MedicareRights.org, plans C and F are the most popular, based on price and coverage. Choosing the right Medigap insurance can be tricky, so use this handy cheat sheet to get started.