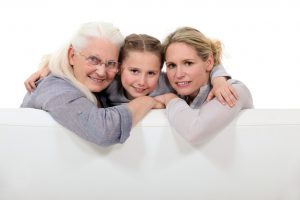 Caring for a family member or loved one is one of the toughest, most demanding, and, unfortunately, financially limiting jobs Americans can do. Every day, 40 million of our friends, neighbors and relatives help their parents, grandparents, relatives or neighbors with the daily activities of living, including dressing, bathing, cooking, shopping, and taking medication. The cumulative financial impact of this unsung and unpaid labor from loving volunteers is estimated at $470 billion per year, a bill that our healthcare system simply couldn't pay. The National Academy of Sciences, Engineering and Medicine recently released a report about the future of caregiving in the United States which rings alarm bells for all of us. The caregivers in our lives are doing vital work that society doesn't yet realize it can't do without.
The AARP and the National Alliance for Caregiving inform us that the average caregiver is a 49-year-old woman who cares for an older relative, but as many as 25% of all caregivers are millennials of both genders. While only one-third of caregivers work full-time, and one-quarter work part-time, another third is providing as many as 21 hours of care each week. Caregiving puts a great financial strain on caregivers in the present day, and can sabotage their future earnings as well. Sixty percent of caregivers have reported reducing the number of hours they are able to work, taking leave, or somehow adjusting their work responsibilities to accommodate their caregiving. Much like the proverbial 'mommy track', these adjustments for caregiving impact both the current and future earning potential, especially when a caregiver is over 50 and female. The financial impact on caregivers is estimated at a cumulative loss of more than $300,000 in earnings and benefits over an earning lifetime.
The health consequences are well-known, as family caregivers are more likely to experience depression, anxiety and chronic illness than non-caregivers. Loved ones who spend time in the ICU, or endure long-term disability or illness, can cause impaired immune systems and mental health issues for their caregivers long after the caregiving has ended.
The most alarming finding in this report is that this level of volunteer caregiving is simply untenable in the long-term. As recently as 2015, the AARP calculated that there were seven potential family caregivers for each person over age 80. By 2030, there will be only four potential caregivers for each person age 80+, and by 2050, fewer than three, as family sizes shrink and our population grows older. This impending crisis will put a greater burden on families and loved ones than ever before, as the responsibility of caregiving will leave fewer and worse choices for all involved.
Fortunately, the community at large is stepping up to support the caregivers among us. In addition to the growing popularity of the home care aide career, non-profits are developing programs and resources to connect caregivers with the medical, emotional and financial support they need to do this vital work. Lawmakers can support the caregiver community with legislation like the CARE Act, employers can help caregiving employees with sensitive leave and PTO policies, and doctors and nurses can make sure caregivers have the right skills to deliver care effectively. And most importantly, each of us can support the caregivers in our lives with time, attention and empathy.
Here's just a short list of websites that can connect caregivers to the resources available: