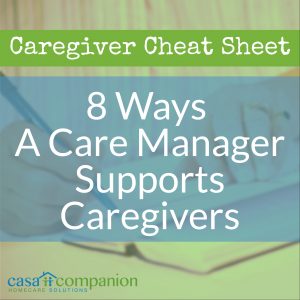 Caring for an aging loved one is rarely easy, no matter what the circumstances. And for caregivers who live across the state or the country, work full-time, or have little family support? The responsibility becomes even heavier and the role becomes even harder to perform well. No amount of love can turn a family caregiver into an expert overnight, however great the need or the desire, and no family caregiver should expect that it will. The greatest resource you've likely never heard of is the professional care manager, the local expert who has all the knowledge, experience, and objectivity you need right now at their fingertips. Caregivers and loved ones can both benefit from the expertise and involvement of a care manager.
In the same way you would find a lawyer to navigate the court system or a CPA to help you deal with the IRS, you can hire a care manager to help you negotiate the system of caregiving. Care managers, also called geriatric care manager or aging life care managers, know the resources available in your loved one's city, county, and state like it's their job – because it is. You and your family are experiencing each stage of your loved one's care for the first time, but your professional care manager has helped others through each stage many times over. This means no 'wrong turns', no learning curve, and no harm to your loved one from your inexperience. And an objective third party can help family members work together in an emotionally charged situation that might otherwise go sour from stress, guilt and general ignorance about what is possible.
A care manager can come from many backgrounds, like licensed clinical social work, counseling, mediation, and nursing, among many others, and should have certification from the Aging Life Care Association. Professional certifications can include Certified Case Manager (CCM), Care Manager Certified (CMC), Certified Advanced Social Work Case Manager (C-ASWCM) and Certified Social Work Case Manager (C-SWCM). A professional care manager charges for their service, but their guidance saves time, emotional strain and money.
The Aging Life Care Association website lists eight areas in which an aging life care manager can support family caregivers:
"Health and Disability: From physical problems to mental health and dementia-related problems, Aging Life Care Managers interact with the health care system effectively and frequently. Aging Life Care Professionals attend doctor appointments and facilitate communication between doctor, client, and family. These professionals help determine types of services – including home health and hospice – that are right for a client and assist in engaging and monitoring those services.
Financial: Services may include reviewing or overseeing bill paying or consulting with a client's accountant or Power of Attorney. Aging Life Care Professionals provide information on Federal and state entitlements, connecting families to local programs when appropriate. They also help clients and families with insurance concerns, claims, and applications.
Housing: Aging Life Care Professionals help families and clients evaluate and select appropriate level of housing or residential options.
Families. Aging Life Care Professionals help families adjust, cope and problem-solve around long-distance and in-home caregiving, addressing care concerns, internal conflicts, and differences of opinion about long-term care planning.
Local Resources: Aging Life Care Professionals know the local resources in their communities like the back of their hands and know how services are accessed.
Advocacy: Aging Life Care Professionals are strong and effective advocates for clients and their families, promoting the client's wishes with health care and other providers, ensuring that client's needs are being adequately addressed.
Legal: Aging Life Care Professionals refer to legal experts, like elder law attorneys, estate planners, and Powers of Attorney. Some Aging Life Care Professionals provide expert opinion for courts in determining level of care and establishing client needs.
Crisis Intervention: Aging Life Care Professionals offer crisis intervention when it is needed, helping clients navigate through emergency departments and hospitalizations, rehabilitation stays, and ensuring that adequate care is available to the client. For families that live at a distance, this can be a much-needed 24/7 emergency contact. Local, cost-effective resources are identified and engaged as needed. A care plan tailored for each individual's circumstances is prepared after a comprehensive assessment. The plan may be modified, in consultation with client and family, as circumstances change."
No matter what services your care manager provides, your arrangement with them should be put in writing, whether in a formal contract or in a letter. All the services, fees and expenses and the terms of billing and payment should be agreed upon in advance. A care manager ensures quality care for loved ones, and reduces worry, work downtime and stress for caregivers.