September 2019 marked the fourth anniversary of the Daughterhood Circle San Diego, a place for caregivers in San Diego to share stories, resources, and laughter. Co-founders Christine Lee and Karen Van Dyke launched the San Diego Circle in 2015 with a group of fourteen women and the desire to make the "daughterhood" journey a more meaningful one. Four years later, Christine and Karen invited current, past, and expectant caregivers to join them at Hera Hub Mission Valley for a celebration of four years of community.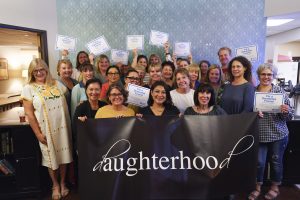 On September 25th, 43 caregivers, daughters and sons filled the room to share stories, resources, and laughter along with snacks, wine, and an anniversary cake.
Christine, founder of Casa Companion Homecare Solutions, an in-home care agency in San Diego, and Karen, founder of Senior Care By Design, a senior housing and transition consultancy, invited Amy Abrams, Director of Education at Alzheimer's San Diego, to speak to the gathering. Amy presented How to Become a Dementia Friend, a nationwide initiative from Dementia Friendly America. After the fun session with lots of interaction, the guests at the San Diego Daughterhood Circle became one of the first groups of Dementia Friends here in San Diego County! [Click here if you'd like more information about this program.]
Daughterhood the movement began in 2015 on the East Coast when Anne Tumlinson, a Washington, D.C.-based aging and healthcare expert, launched Daughterhood.org. She wanted to connect with family caregivers, including the daughters in the Sandwich Generation like her who were caring for their aging parents. Christine and Karen, on the West Coast, had been thinking about how to support these same caregivers. They launched Daughterhood San Diego in September 2015, and it's now one of 31 Circles in 21 U.S. states and Canada!
Daughterhood.org's mission is to support and build confidence in women who are managing their parents' care, and the national website offers resources, inspiration and help to support this journey. As Karen said at the Circle's second anniversary, "daughterhood is what happens when we put our lives on hold to take care of our parents, our spouse, or another loved one. It's shocking how hard and time-consuming it is. Daughterhood is the antidote, and the Circles are the place for the magic."
The San Diego Union Tribune interviewed Karen and Christine for a feature article in their Caregiver Resources section on September 16th, "Daughterhood Circle gives caregivers a place to unload and replenish." The reporter captured the spirit of the Daughterhood Circle perfectly: Daughterhood, "giving caregivers a chance to recharge their batteries in a place where everyone knows your name and no one questions your right to a glass of wine and a good cry. Or maybe a much-needed laugh."
The Fourth Anniversary Party was a wonderful celebration of Daughterhood's flagship Circle in the United States, and the online and offline support and community it offers caregivers in San Diego. Connect with Daughterhood San Diego on Facebook here.