Somewhere between 70 – 80% of today's elderly are cared for by their family members. Of those approximately 44 million unpaid caregivers, two-thirds to three-quarters are employed outside the home. While women have typically been the majority of working caregivers, more and more men are taking on the role of caring for an aging relative. These women and men, who may also find themselves financially supporting an adult child, or with young children still at home, comprise The Sandwich Generation. Almost half of all workers over age 50 find themselves caught between caring for their own children, and caring for the parent or parents who raised them – all while pursuing their own career goals and saving for their own future.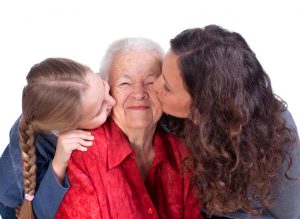 Our population is rapidly aging, requiring more care and support. Not only will the total number of seniors needing care grow to almost 300 million by the year 2050, but as soon as 2030 there will be only four prospective caregivers for everyone 80 and up. In 2010, that ration was seven-to-one. So even as today's members of the Sandwich Generation move into the ranks of those needing care, the pressure on working caregivers will only grow. Currently, the average workplace can be difficult terrain for a caregiver under pressure to navigate. According to the Washington Post, up to 40% of working caregivers reported that they worked in inflexible settings and were forced to either reduce their hours, or quit altogether. Seventy percent of working caregivers surveyed by the AARP were forced to make concessions at work such as modifying their hours, taking leave, retiring early, or turning down a promotion.
The tremendous pressure of being the 'meat' of the sandwich presents several challenges to both the working caregiver and the employer. Caring for parents will end with one of life's sadder milestones, and so the emotional burden is both of the present, and of the future. In addition, working caregivers rarely think of themselves as caregivers, and instead believe they're simply doing the right thing by their parents. An additional emotional burden is worry about job security, due to the accommodations that caregivers typically require. And when caregivers are at work, their responsibilities can distract them, reducing overall productivity. This graphic from ReAct shows the typical demands on a caregiver's time.
However, working caregivers are here to stay, so employers need to adapt to the not-so-new realities facing the Sandwich Generation. Failure to support employee-caregivers could cost as much as $34 billion a year in absenteeism, lost productivity, health-care costs, and turnover, per estimates from MetLife. Employers are beginning to respond in greater numbers. In 2008, 31% of employers provided information about elder-care to employees, and that number increased to 43% in 2014. Increasingly, employers are allowing employees to pay for elder-care with pre-tax dollars, in the same way parents pay for child care. However, while 75% offer unpaid leave to employees so they can care for aging parents, only 7% pay for short-term respite. Ultimately, the best safety net for working caregivers is internal support from their manager, external support from outside resources, and flexible scheduling to allow self-support.
There are exciting new resources available for employers who want to support their working caregivers. In 2013, more than 30 companies and non-profits, including Aetna, CBS, and Microsoft, among many others, joined forces to form ReACT. Now comprising 42 firms, academic institutions and nonprofit groups, ReACT, which stands for Respect A Caregiver's Time, has adopted the mission of changing workplace culture so that working caregivers can balance career and elder care more easily. Locally, Christine Davies, Managing Director of Casa Companion Homecare Solutions, will be presenting a Lunch & Learn under the auspices of San Diego HR Roundtable on the topic "The Sandwich Generation: How HR Can Guide Employees Caught in the Middle." Please click here for more information, or if you would like to attend Christine's informative presentation.