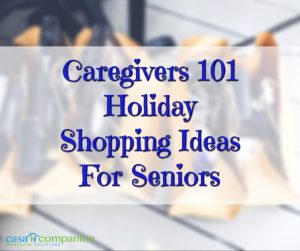 Holiday gifts are a big part of the year, whether you're shopping for Hanukkah or Christmas, for kids or for seniors. Some of us like to be the hero, 'winning' Christmas when we find the perfect gifts for the people on our list. Some of us are on a budget, and like to give practical, or whimsical, or philanthropical gifts that stand out. Beware, though: one friend's family still refers semi-angrily to the year she 'gave them all a cow', because she donated an animal to a village in Africa in their names. Some of us want to solve a problem, fill a need, or warm a heart with our gifts, and that's not easy to do with one present. But this year, we have the perfect idea for caregivers, home care aides and holiday heroes that will wow the seniors in their lives.
Many of us, seniors included, don't have the time or the endurance to browse the stores or keep up online with what's new. But the holiday hero can bring the fresh and the new right to their front door, so they can try new food, clothes, beauty products, books, and whatever else is out there. There's a subscription box for every taste and every budget, and here is our short list for the seniors on your holiday gift list:
Subscription boxes:
Gourmet / healthy meal kit services send food right to the door, with pre-measured ingredients and a recipe card. These services are perfect for seniors who love to cook but find shopping for one wasteful, who can't stand in the kitchen comfortably for very long, or who appreciate skipping a trip to the store.

Blue Apron has a two-person plan for three meals a week. Single people can make two meals at a time, and have one leftover, which is a great time-saver. Subscribers choose their recipes each week, including vegetarian options.
Hello Fresh offers a two-person plan with either three or four meals a week, and allows subscribers to choose egg, gluten, nut or dairy free recipes.
Subscription box services deliver specialty or unusual items on a monthly or quarterly basis, which makes them ideal gifts for seniors. Whatever you send your loved one, they will have a reminder every month of the love you have for them, and the time you took to find them something they would enjoy. Whether you open the box together, or hear all about the contents over the phone, these boxes are a great way to connect with your loved one every month.